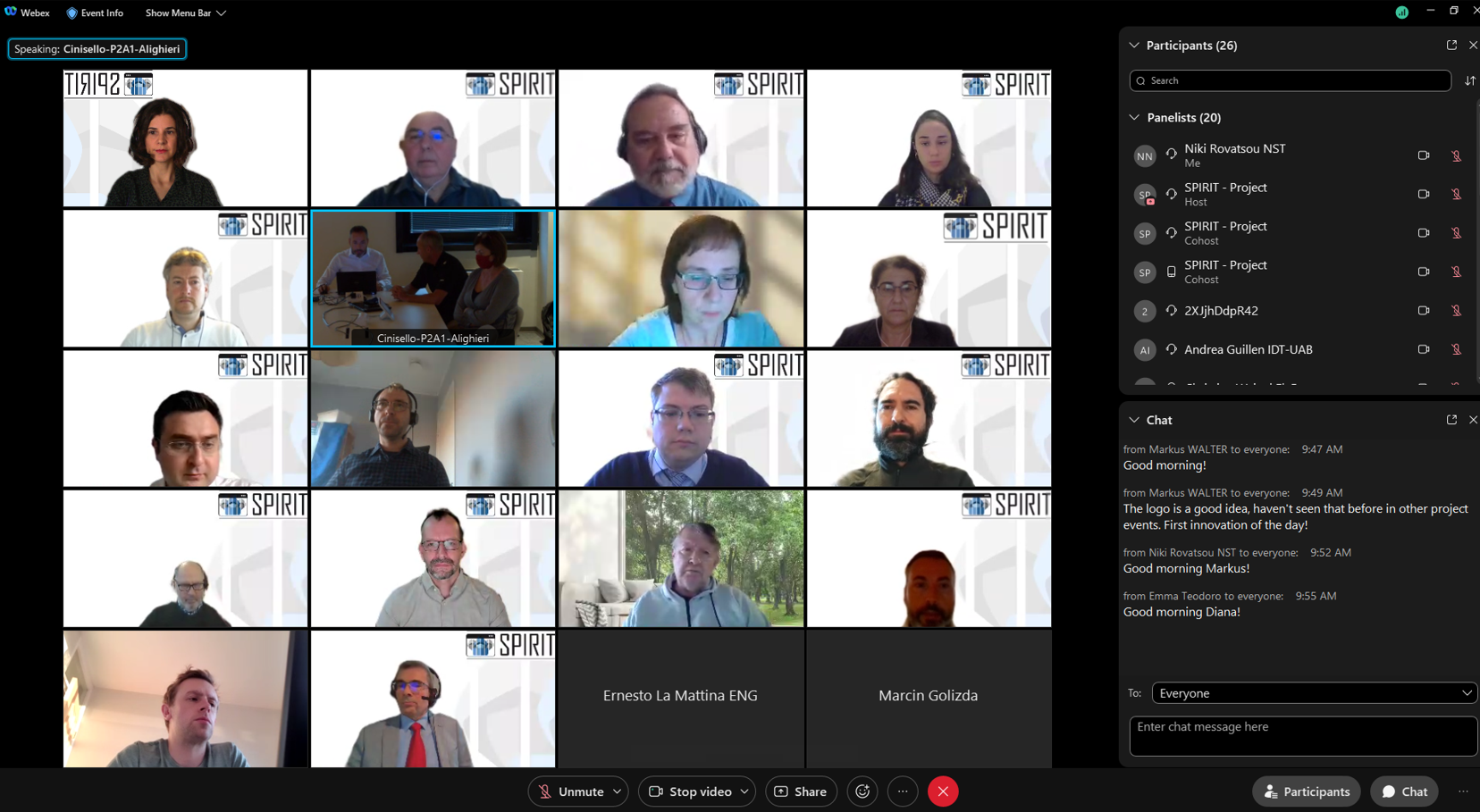 The SPIRIT Final Workshop was held on October 22nd in Milan, Italy. Due to the unfortunate pandemic situation, that has impacted every social activity, the event planned as a hybrid (physical and cyber) Conference.
The main topics foreseen for the agenda were the following:
• Showcasing of SPIRIT in action, with in depth use case definitions and Law Enforcement reflections.
• A high calibre panel discussion on Privacy, Ethics and Regulatory frameworks, opposite the use of AI/ML in Law Enforcement.
• An open presentation and discussion among four sister projects (AIDA, PREVISION, REACT, SPIRIT) that have been working in parallel during the Horizon-2020 period.
The invitation to attend the meeting was send to all the project partners, as well as to sectorial stakeholders and end-user communities and some additional guest suggested by the SPIRIT Ethics Advisory Panel, such as a representative from the EUROPOL and EUROJUST and other authorities. sectorial stakeholders and end-user communities
As indicated in the event agenda the SPIRIT Final Workshop was structured in 9 sessions:
• Session 1: The H2020 Project in a nutshell
• Session 2: Demo - SPIRIT prototype and the Identity Resolution Service
• Session 3: SPIRIT Privacy and Ethics, setting the scene
• Session 4: Social Graph Construction/ Image, Video and Audio Analytics, Sense-Making Workspace / Identity Resolution, Scalable Graph Infrastructure, Multi-Purpose Semantic Crawling/Semantic Social Graph Construction
• Session 5: Round Table Panel Discussion: "Fighting Crime & Terrorism vs preserving privacy in the frame of the new AI regulations"
• Session 6: Spirit Security and Ethics related tasks, addressing the challenges
• Session 7: Sister projects
• Session 8: Training Experts Board (ETAB) and Evaluation Results
• Session 9: Questions & Answers